Amy Ewart

REALTOR

in Bentonville, AR
Associate Information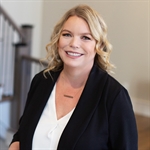 I am a dream catcher, helping new friends catch their dreams of buying and selling a new home. After many years working in the supplier community, I made the change to real estate to help people in a different way that makes a larger impact on their lives. As a resident of Bentonville my entire life, I have extensive knowledge of the area.
For buyers, I listen to what is important to them and have the experience to know which neighborhoods and home features will meet their lifestyle needs. For sellers, I take an individualized approach, knowing that each home has special aspects that will appeal to its ideal buyer.
I also am proud to partner with organizations to help firefighters, law enforcement, EMS, Military (active, reserve, and veterans), healthcare professionals, and teachers receive money back with a home purchase along with programs that help active retirees find a home in NWA.
Clients appreciate my flexibility, low-pressure sales, patience, ability to listen and hear what a client wants. I also provide solutions to client's obstacles through my skills of problem-solving and comprehension of complex issues.
In my free time, I enjoy spending time with my two children, sitting around the fire, cooking, and spending time with friends and family.
NWA is home for me and I would love to help you call Northwest Arkansas home as well!